With each year going by, cannabis legalization is rolling at an increasing pace across the states.
As an emerging and rapidly growing market, cannabis is gaining more attention among politicians, many of whom are about to pull out the federal legalization card in the 2020 elections as the primary fuel in their campaign.
However, for a novice marijuana user, staying on top of the constantly changing state laws and federal nuances can be overwhelming.
To make things a little easier, we've come up with the guide on marijuana legal status for 2020, including the updated map of states which have recently hopped on the legalization bandwagon.
Map of Marijuana Legalization in 50 States
Before diving deeper into details, though, let's travel back in time to the year that has given rise to the global legalization movement.
A Brief History of Marijuana Legalization in the USA
Marijuana first became stigmatized in the 1930s when Harry J. Anslinger, then chief of the U.S. Bureau of Narcotics, declared his personal war on cannabis, which was fueled by his racial prejudices against Latin-American immigrants and the threat the versatility of cannabis posed to many of the businesses he had shares in.
After running successful fearmongering propaganda against cannabis, the US government introduced the first national regulation of the plant in the form of Marijuana Tax Act of 1937.
Cannabis was officially outlawed for any use with the passage of the Controlled Substances Act (CSA) of 1970. Since then, the government has rejected multiple attempts to reschedule cannabis under the CSA.
Even the report by Shafer Commission from 1972, which informed the President and Congress about the limited societal harms caused by cannabis and recommended its decriminalization, failed to trigger the federal reform.
Nonetheless, many cannabis activists believe that the report's findings helped spur the passage of decriminalization laws in a number of states during the 1970s.
In 1996, California voters passed Proposition 215, a bill which made the Golden State the first in the union to allow marijuana for medical use. The bill encouraged marijuana advocates to further fight for their right to use the herb for medical and recreational purposes.
With more and more scientific evidence confirming new medical applications for marijuana, and reports from NGO organizations about the plant's limited side effects compared to popular OTC and prescription drugs, many states have followed through introducing their own medical marijuana programs.
The true revolution began on November 6, 2012, when Colorado and Washington became the first states to legalize recreational use of cannabis when voters helped pass Colorado Amendment 64 and Washington Initiative 502.
As of today, 10 states and the District of Columbia have approved marijuana for both medical and recreational use. A total of 46 states have currently passed laws broadly legalizing the herb in some form.
And yet, we're still waiting for the federal legalization.
Which brings us to the next point.
Marijuana Legal Status on Federal Level
Although medical marijuana is available in 46 states, it is still illegal under federal law.
The federal government regulates drugs through the Controlled Substances Act, which doesn't distinguish the medical use from recreational use.
What's worse, marijuana is classified as a Schedule I drug, which means that the federal government doesn't accept it as a medicine and considers it highly addictive, which stays in stark contrast to what modern science has to say about marijuana.
Federal cannabis laws are very harsh, and so is the punishment for people found guilty of possession, cultivation, sales, or transportation of marijuana across state lines.
Doctors aren't allowed to prescribe cannabis for medical use under federal law, but they can recommend its use under the First Amendment.
Since 2013, several federal agencies have issued guidelines and other policies instructing prosecutors to stop pursuing medical marijuana patients and instead, focus on the following issues:
Distributing marijuana to minors;
Preventing criminal enterprises, gangs or cartels from profiting from the sale of marijuana;
Preventing the trafficking of marijuana across state borders, even if the transportation takes place between two legal sates;
Preventing state-authorized marijuana operations from being used as an argument for trafficking other illegal drugs;
Preventing drugged driving and other undesired public consequences associated with marijuana use;
Preventing the cultivation of marijuana on public lands;
Preventing marijuana possession or use on federal property.
Sentencing laws are defined by two federal guidelines set by the United States Sentencing Commission and Congress. These guidelines cover the amount of cannabis involved in the arrest as well as the past criminal record of the accused.
Not all marijuana convictions require jail time, but all qualify for imprisonment. Courts may employ a probation period or an alternative sentence to a person charged with low-level marijuana offenses.
USA CBD
How do Different States Regulate Marijuana?
Despite the federal prohibition on cannabis, states and other jurisdictions continue to implement policies that stay in stark contrast with federal law.
In other words, marijuana might not be legal on the federal level, but states have the right to allow its recreational or medical use.
As of 2019, 10 states plus the District of Columbia have legalized marijuana for recreational purposes; 34 states have medical marijuana programs for a broad range of conditions; others approve medical marijuana treatments only under circumstances or are still fighting for legal medical weed.
States Where Marijuana is Legal for Recreational Use
Alaska
California
Colorado
Maine
Massachusetts
Michigan*
Nevada
Oregon
Vermont
Washington
Washington D.C.
* Only cultivation is currently allowed in this state with retail/dispensary locations expected to open in 2019-2021.
Alabama* (CBD only)
Arizona
Arkansas**
Connecticut
Delaware
Florida
Georgia* (CBD only)
Hawaii
Illinois
Indiana* (CBD only)
Iowa (CBD only)
Kentucky* (CBD only)
Louisiana
Maryland
Minnesota
Mississippi* (CBD only)
Missouri
Montana
New Hampshire
New Jersey
New Mexico
New York
North Carolina* (CBD only)
North Dakota**
Ohio**
Oklahoma (CBD only)
Pennsylvania
Rhode Island
South Carolina* (CBD only)
Tennessee* (CBD only)
Texas (CBD only)
Utah
Virginia* (CBD only)
West Virginia**
Wisconsin* (CBD only)
Wyoming* (CBD only)
Check out our other article for a more in-depth guide on CBD laws and regulations in your state. While the CBD oil for sale from Royal CBD is extracted from cannabinoid-rich industrial hemp (our CBD oil 1500mg, CBD oil 1000mg, CBD oil tinctures , CBD oil Pain Relief Patch 50mg formulations, our CBD gummies, and CBD capsules) and legal in all 50 states, marijuana-derived CBD oil laws vary from state to state.
* States with regulations in place for assigning patients to the medical marijuana program, but no state-licensed facilities such as medical dispensaries have been introduced yet to purchase marijuana products from.
** States with medical programs pending in various stages: these states don't yet accept patient applications and there are no medical dispensaries available.
States Where Marijuana Remains Banned
Idaho
Kansas
Nebraska
South Dakota
Legalize CBD
A Brief Overview of Marijuana Regulations in the Recreational States
As mentioned, 10 states plus the District Columbia allow marijuana for recreational and medical use. However, each state has different regulations regarding weed.
Below we present a quick rundown of marijuana laws in the so-called recreational states.
1. Alaska
Alaska has legal weed for adults 21 and over. In early 2015, Alaska legalized marijuana for its residents. Those living in Alaska are allowed to use, possess, and transport up to one ounce of marijuana. The first recreational dispensary was opened in late 2016.
Alaska is also willing to make its recreational weed stores a destination for tourist; more than two million people visit the northernmost US state and spend $2 billion annually.
2. California
California was the first state to legalize medical marijuana use back in 1996. The golden state became even more friendly in 2016 when it also legalized recreational weed.
The California law permits adults 21 and over to buy up to one ounce of marijuana flowers, eight grams of marijuana concentrates, and grow up to six marijuana plants per household.
Still, as The New York Times reports, the law and high taxes have made it challenging for the government to convince Californians to buy legal weed rather than from the black market.
3. Colorado
Colorado has more marijuana dispensaries than McDonalds and Starbucks locations combined. It was the second state, along with Washington, to fully legalize the herb in 2012.
Residents and tourists over the age of 21 can purchase up to an ounce of marijuana or eight grams of concentrates, although some Colorados counties and cities have imposed their own limits on weed.
4. Maine
Mainers received their right to legal marijuana thanks to the ballot initiative in 2016. The state has one of the most laid-back regulations when it comes to marijuana possession.
Citizens of Maine can carry up to 2.5 ounces of marijuana.
Maine's government is still trying to figure out the detailed plan for its recreational retail stores.
5. Massachusetts
Residents of Massachusetts received the green light to carry and use an ounce of marijuana and cultivate up to 12 plants per household in 2016.
The first recreational dispensary opened in 2018, with more to come this year, as reported by The Boston Globe.
6. Michigan
Michigan accepted Proposition 1 last year, becoming the first Midwest state to legalize the possession and sale of marijuana for adults 21 and up.
The bill permits adults to carry up 2.5 ounces of marijuana and has granted residents the right to grow up to 12 plants at home.
7. Nevada
Nevada allows residents and tourists 21 and over to buy an ounce of marijuana or ⅛ oz of edibles or concentrates. Interestingly, Nevadians needed less than two weeks to empty the supplies of weed after recreational sales began in July 2017.
The state has coined roughly $20 million in marijuana tax revenue since the market's launch.
There's bad news if you're a home grower, though. Living in Nevada requires you to live at least 25 miles outside the nearest dispensary in order to be able to apply for a grower's license.
8. Oregon
Oregon legalized weed for recreational use in 2015. Since then, the residents of Oregon have received the right to carry one ounce of marijuana and grow up to four plants per household.
The state has one of the fastest-growing recreational markets. Sales in Oregon dispensaries are expected to hit $1 billion by 2020 according to The Portland Business Journal.
9. Vermont
Contrary to the other states, Vermont legalized marijuana through the legislature in January, last year, when Republic Governor Phil Scott signed the bill into law.
Adults in Vermont can possess up to an ounce of marijuana and grow up to two plants at home.
However, the new law hasn't established a legal market for the production and sale of weed yet.
10. Washington
Dispensaries in Washington have noted over $1 billion in marijuana sales since its legalization in 2012. Residents of Washington can carry up to an ounce of weed, but they cannot grow their own plants unless they apply for a medical marijuana card.
11. Washington D.C.
The District of Columbia, the nation's capital, legalized marijuana for adult use in November 2014. The law went into effect in 2015, permitting people to possess up to 2 ounces of marijuana and "gift" up to an ounce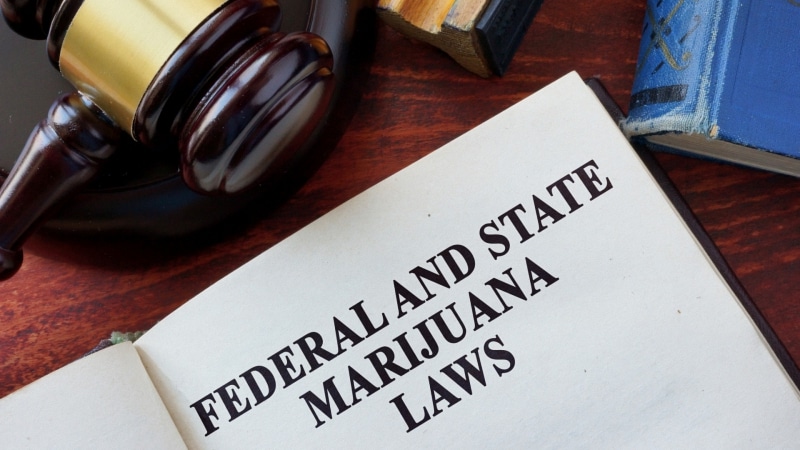 What Does the Conflict Between State vs. Federal Laws Mean to Marijuana Users?
Reading through this guide, you must've wondered how on earth it's possible to legalize marijuana in certain states while keeping the herb illegal on the federal level.
Not only does this sound crazy, but it also creates a vast field for abuse when it comes to law enforcement.
In 2005, the United States Supreme Court stated that the federal government has the constitutional right to ban marijuana for all purposes.
Given this, federal authorities may prosecute medical marijuana patients even if they grow their own medicine and reside in a state with an established medical marijuana program.
The best example of the absurdity created by this legal contradiction is the situation with transporting weed between states which have legalized marijuana. Weed may be legal in both states, but according to federal law, its transportation falls under drug trafficking and thus is considered a federal offense.
Fortunately, in 2014 and 2015, Congress introduced the first change in federal law affecting patients since 1970, when cannabis was first listed in the Controlled Substances Act.
Congress approved a budget amendment that prohibited the Justice Department funds from being released to prevent states from creating and enforcing medical cannabis laws. These restrictions on the federal government were added as part of the 2016 funding bill for the Commerce-Justice-Science budgets.
If there's a chance for fixing this grotesque contradiction between state vs federal laws, it can only happen through nationwide cannabis legalization, which we hope to witness sooner than later.
Conclusion
More states than ever are pushing for recreational marijuana legalization. It's only a matter of time until weed becomes accepted on the federal level, but for now, there's still much work to be done.
As politicians, regardless of their party affiliation, begin to see the myriad of opportunities in legalizing cannabis — the primary opportunity being the tax revenue it brings to the US budget — there's going to be a lot of buzz around federal legalization in the upcoming elections.
Will 2022- 2023 be a groundbreaking year for marijuana? Share your opinion in the comments below! #CBD #CBDOIL #thehempnurse #CBDCURES